Tropical Storm Earl
Tropical Storm Earl.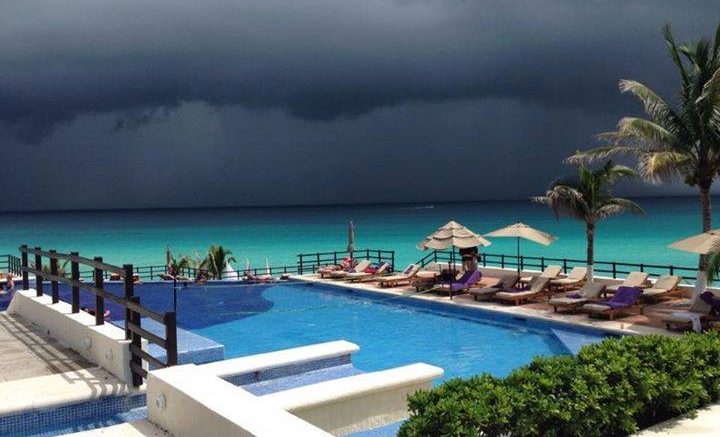 Tropical Storm Earl and Playa del Carmen.  The tropical disturbance was found to have reached flight-level winds of 57 mph on Tuesday afternoon. The storm continues to make its way across the Caribbean Sea and is expected to land Belize City Wednesday evening.
Earl is expected to arrive with scattered showers and thunderstorms that will result in  wet and windy conditions in Belize and the Yucatan Peninsula  with winds of 65 mph.
As of Tuesday, Tropical Storm Earl and Playa del Carmen was tracked moving westward at 22 mph and is expected to slow over the next 24 to 48 hours as the storm approaches land.
A sprawling area of high pressure to the north of Earl will keep the storm moving on a general westerly path. Even though it will slow down a bit over the next day or two, Earl still has less than two days to gather strength before it makes landfall late Wednesday, most likely in Belize, but possibly on the far southeast Mexican coast of the Yucatan peninsula.
For guests staying at El Taj Ocean, Porto Playa, Magia Beachside, Maya Villa, El Taj Beach and Villas Sacbe:  This Tropical Storm Earl will pass, but unfortunately you will have lots of rain and then it should be clear and sunny days/.  Please contact our front desk at the condo hotel if you need anything.  We are here for you.
For those not staying on one of our properties:  We sat out a Tropical Storm in June,  2015.  I'd rather have sun, but we made the most   of it and ate at Indigo Beach Club, Plank, and Imprveist.  Went to the Martini Bar and drank wine on our balcony.  It could have been worse and actually we've had worse vacations!