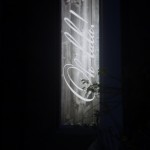 Oh Lala is one of THE Best Restaurants in Playa del Carmen
Everyone asks us what our favorite restaurant in Playa is and although there are many great restaurants, one of the top 2 in all of Playa is Oh Lala.  We are back in Playa for a few days and went there last night.  They've moved to lovely, exquisitely elegant space on Calle 14 between 10th and 15th.  Oh Lala has  international cuisine, so you'll find steaks, seafood and a mix of different dishes – something for everyone.
This restaurant could be successful in Chicago or any other big city.  It's a small, intimate place with about 10 tables spaced to give patrons privacy and they have inside and outside  seating.  The inside is air conditioned and looks out at a tropical courtyard that is beautiful and  romantic.  The outside is also a very private courtyard with Mikaela's (one of the two owners) garden.
We both ordered one of the 2 daily specials:  lobster tail and grouper  in a garlic wine sauce (!!)   and a small serving of mashed potatoes.  The lobster was delicious, but the grouper was as good as the lobster:   so tender and the sauce that was incredible!  Each mouthful was a joy to experience.   We also ordered a side of grilled vegetables that was not only delicious, but looked like a work of art.  We had the chocolate cake for desert that was real cocoa and warm from the oven, a gooey, decadent treat I'd order again!  They also have a great wine selection.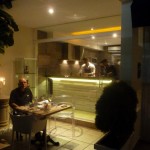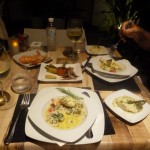 5 Star Food, Ambience, and Service
The chef and other owner, George, came out to say hello, and was a charming and gracious host.  He proudly showed us his new kitchen that is three times the size of their previous place.  His wife, Mikaela Roomero, was our hostess and wait staff.  She is beautiful and couldn't have taken better care of us.  George has lived in numerous places around the world and Oh Lala offers International Cuisine.
We love the new location. Phone ahead for reservations, especially during busy seasons in Playa (984-129-5981) as the secret is out as to how wonderful Oh Lala is, and they are often fully booked weeks in advance.  They are open for dinner only.  ohlala254@hotmail.com.  Website should be up soon.
We were thrilled to hear that sometime in October they will open a To-Go shop at their previous location on 10th between Calle 14 and Constituyentes.  Not  sure what the cuisine will be, but everything George makes is wonderful.  Main entrees are between 140 and 300 pesos.  Elegant, excellent food, superb service and ambiance make this one of The best restaurants in Playa del Carmen
We are going back Monday because a couple who is getting married at the Fairmont wants to have their wedding dinner at Oh Lala.  Mikaela is going to decorate for their special day and I want to see what it looks like.  Can't wait!
Oh Lala is a 5 minute walk from any of our 5 properties in Playa del Carmen:  El Taj Ocean, El Taj Beach, Porto Playa, Maya Villa, and Villas Sacbe.  Mention our names, Laura and Terry Carmine, when you go.
For reservations and availability at El Taj Ocean, El Taj Beach, Porto Playa, Maya Villa, and Villas Sacbe please contact Matt or Laura, 312.560.3508 or our reservation site.