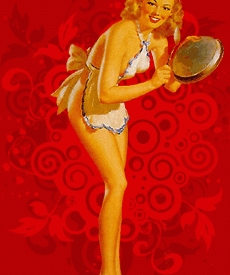 Babe's Noodles and Bar – Recommended by Facebook friends
Babe's Noodles and Bar,  just off 5th Ave. between Calle 5 and 10 is open for lunch and dinner. Babe's is a Swedish owned Restaurant and Bar with speciality Thai noodles and an Asian European kitchen. The bar makes the best mojitos, blueberry daiquiris, margaritas, smoothies and juices. Everthing is freshly prepared at the time you order.
Combined with delicious eats, the funky decor featuring pin-up girls and barbie dolls.
– Submitted by Bonnie Taylor
Read the Trip Advisor reviews.
That's Amore had delicious pizza! submitted on Facebook – by Antoinette Aramouni Nahal