Best Restaurants in Playa del Carmen July, 2016
We are constantly updating our list of Best Restaurants in Playa del Carmen. These are our recommendations for the Best Restaurants in Playa del Carmen July, 2016
1. Romeo, Best Italian in PDC. My husband is Italian and he tells people this is the best Italian food he's had in his life. I love the Spinach Ravioli with Truffle Oil. We took our family, a group of 12, and they had everything from pizza, to gnocchi, to seafood and everyone raved about the food, and we actually went back one more time before they left. Prices are modest, ($10 US entrees) food is outstanding. It's a little place, so call ahead and make a reservation 984-141-6507 or stop by after 4 pm. It's on Calle 4, between 10th and 15th. Good chance for tourists to get off 5th Ave. To-go and Delivery is available.
2. Plank The first restaurant in the Riviera Maya to win a 5 diamond award from the Academy of Hospitality Sciences. Terrific menu, great food and service, lovely place, great location. Open for dinner nightly and weekend brunches. I love the tasting menu! The brunches are the best I've ever experienced with the widest variety of food. The chef, Juan Diego is phenomenal. Located on Calle 16, between First and 5th Ave., in the Porto Playa Condo/Hotel Building. Medium priced restaurant (Guests at our properties receive a 20% discount on Thursdays) Plank Website For reservations you can email reservations@plank.mx or call +52 (984) 803 0108 +52 (984) 168 7025
3. Oh Lala, International Cuisine by George is always a favorite, but you need to book at least 3 weeks in advance or be willing to eat after 9 pm. They will only take parties of 6 or less so that they can provide the highest level of service. The restaurant is small, with seating inside and outside, but spacious in that tables are not crowded together. The food is delicious with high attention to service. A bit higher priced, but well worth it. Located at Calle 14 north Bis, between 10th Av. and 15th Av. Playa del CarmenOh Lala restaurant in Playa del Carmen website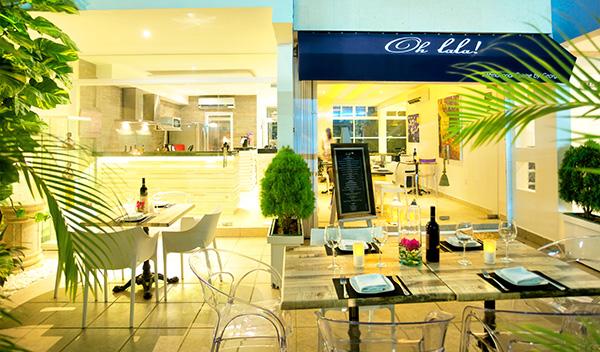 4. La Brocherie I love this place! Fabian had a restaurant in Paris, then New York, and now Playa del Carmen. He and his parents and wife bring French chicken to Mexico. It is succulent and the desserts are the best in the Riviera Maya, so save room for dessert! The restaurant is small, with plastic tables and chairs, but it fills up nightly and is not something to miss. It is located on 15th Ave, between 4th and 6th.
La Brocherie is open Monday-Saturday from 10:30am-9:oopm Closed Sundays. Modest prices.
To-go and Delivery is available. Their number is 147 8683 or cell 984-117-7210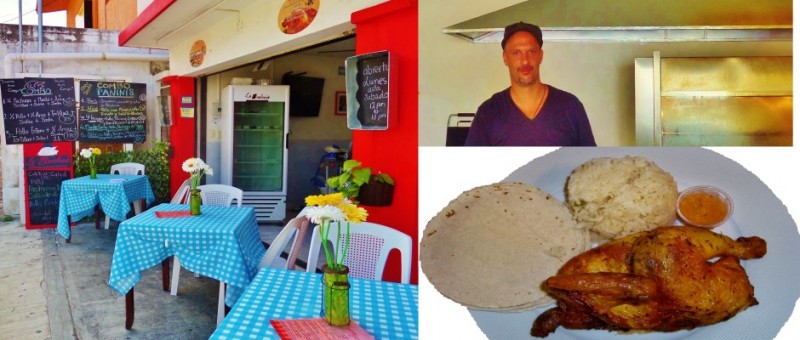 5. Nau is fairly new, but great concept, food, and ambiance. Excellent atmosphere with great fresh food (best fish choices! but they do have meat options as well) and some great gin drinks. I've never been much of a gin drinker but this place has some great recipes that are fantastic on a hot Mexican night.
Quality meals with top notch service. Medium priced. Nau Restaurant in Playa del Carmen Website For reservations, call Tel: +52 1 984 197 4121 or email correo@nau.mx
6. El Fogon is our favorite authentic Mexican restaurant, and you'll see it's where the locals eat. Menu is in Spanish, and the wait staff speaks only a little English, so you look around to see what dishes come out and ask what they are, and use your head and Google translate to decipher the menu. The food is fantastic, service is terrific and the prices are very inexpensive. The folks at El Fogon are extremely friendly and they will do everything they can to make your experience one you'll remember. Located on North side of Constituyentes, between Calle 25 and 30. No reservations or delivery, but they offer carryout.
https://youtu.be/Yc4kVGzpLS8
7. Imprevist is another favorite and another outstanding restaurant by Chef Juan Diego. They offer an outstanding breakfast and brunch daily with a choice of seating in air-conditioned dining room or outside on an open-air patio, overlooking a quaint and quiet cobblestone street. Very European – like Playa. At night under candles and twinkly lights it becomes a cozy and intimate dining experience. Gourmet menu is comprised of seasonal flavors featuring fine selections of Prime Sea foods, USDA certified Beef and Chicken, Salad Medleys and Risottos. I strongly encourage reservations for dinner. (984) 168 70 25 / 26 or email: reservations@imprevist.mx. Imprevist Restaurant Website
8. Aguachiles is a very inexpensive place to order tacos and has great margherita's, is close to our properties and is a favorite lunch spot or place to go get a quick bite.  It's changed owners and menus, but is still a favorite.  You can order a variety of different small tacos that are very tasty.  It's on Constituyentes, beteen First and Fifth Ave.  No need for reservations
9. Wah-Wah is a beach bar/restaurant that we love to go to for lunch.  They have the best grouper sandwiches (don't forget to order the garlic Parmesan french fries).   We go here for lunch only, and most days there is someone playing guitar and singing beach songs like Jimmy buffet or Zac Brown.  Great way to spend an afternoon.
10. Asi Beach Club.  Nothing like having a really nice breakfast buffet on the beach.  Great lunch menu and drinks as well .  Service is terrific and sometimes you'll have a celebrity sighting because this is the place to hang out during the day!  They can also handle small parties at night – loads of fun, Love the place!  They are open from 7 am to 8 pm daily.